"I am a creative person, I knew nothing about profit margins, cash flow or how to manage my finances. I was flat out green when I started my T-shirt business," said Sonya Grant in a recent interview about being a graduate of Black Equity University, and owner of Gullah T's N' Tings. Latoya Hagood, who also attended BEU, had the same frustrations. "I didn't know how to budget, price my products to make a profit and market my skin care business. I thought: I am a nurse, not a businesswoman." Over the course of just a few weeks, they surprised themselves.
Both of these new businesswomen learned many valuable lessons while attending the classes, but even more important for them was "the opportunity to meet other entrepreneurs and build lasting relationships," said Sonya.
Latoya's experience was similar, as she was also connected with business coaches with great insight who followed her through the process, guiding her and her classmates through the good times and the tough ones.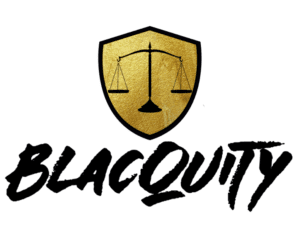 Black Equity University is a 12-week course designed to teach the foundations of business ownership and growth. It is a signature program of BlacQuity, which was formed in 2020 by a group of multi-racial business and community leaders in the South Carolina Lowcountry with the desire to elevate, empower and promote local Black-owned businesses. BlacQuity is dedicated to facilitating and increasing opportunities for economic mobility while strengthening skillsets of small Black business owners.
With a background in sales and marketing, Gwen Chambers joined BlacQuity as its Executive Director in September 2021, after working with the Serg Restaurant Group and Bluffton Self Help. She said both of those experiences allowed her to receive a deep understanding of the needs in the community, what people are going through and the importance of collaboration and having community partners.
When Gwen applied for the position at BlacQuity, she thought it was a long shot but shared with the nonprofit that she would work hard and go above and beyond to get things done because,
"I saw the mission. I saw what they wanted to accomplish, and I wanted to be a part of it. I think it was my eagerness, but also being very open and candid with them that I was new to this, yet I would do everything in my power to make these individuals, these businesses stand up within the community," she said.
Gwen's work began with an assessment of what businesses already existed in the community, which were visible, and which were not. The BlacQuity Business Directory was a good place to begin, and her previous work in the community was extremely helpful as well. In addition, the first BEU class of six businesses had already graduated in Spring of 2021, so she talked with those businesses owners in order to evaluate the curriculum – what components were helpful. The classes focus on finance, finding lenders, making payroll, cash flow, budgeting, marketing and public relations. Gwen wanted to make sure the students were getting the course work they needed to be successful.
The entrepreneurs who attend the BEU are diverse; some individuals just have an idea for a business, others have a hobby or "side-hustle" that they want to grow into a business, and still others already have full-time companies that they want to expand, get more exposure, and maybe go international. A wide range of businesses have participated in BEU including: skin care, spa and massage, furniture, home furnishings, boutiques, restaurants, graphic design, and apparel. The fourth class begins this September on Wednesday evenings at the Don Ryan Center in Bluffton.
Another important component of the university is that each participant is given a coach. "We work with a really great group of individuals who dedicate their time to guide and coach our students. They are past CEOs, executives and entrepreneurs who partner with our businesses and hold them accountable by checking in with them on a regular basis," said Gwen.
Local and state speakers also volunteer their expertise to BEU students and the greater community on Motivation Mondays, another resource offered through BlacQuity. Speakers have included leaders from the S.C. Department of Commerce, Beaufort County Economic Development Corporation, community lenders and other Lowcountry businesses with resources to share.
As Gwen looks to the future, she has plans to expand Black Equity University, the Speaker Series, and elevate the BlacQuity Business Directory to a web-based app to make it user friendly and easier to access. "With the directory, it's going to take more work and more financial resources to provide a platform that is visible that we can promote," said Gwen. Right now, Gwen is a company of one, however, the plan is also to hire a program coordinator in the Fall. "We have grown very quickly over the past three years, and we must now prepare to manage that growth with a strong internal infrastructure to make sure we have the capacity to take things to the next level – the exact model we're teaching our students," she said.
When asked why Gwen is so passionate about leading BlacQuity, she shared,
"I think at my core, I just love watching these entrepreneurs take their businesses to the next level. When I see that light bulb go off in them, that through their business they can leave a legacy for their families and create generational wealth, it makes me so proud of what they can accomplish. I didn't grow up in a household with someone owning a business, but I understand that desire to start from nothing and build something. We are here at BlacQuity to give entrepreneurs the tools to help their businesses not only survive but thrive! We are here to do whatever it takes to make their dreams come true," said Gwen.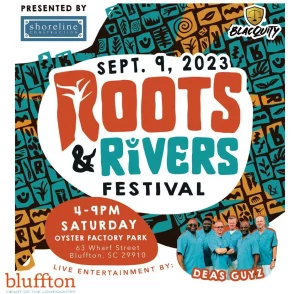 To support the local economy and promote entrepreneurship, BlacQuity is presenting the inaugural Roots & Rivers Festival at Oyster Factory Park in Bluffton on September 9th from, 4pm-9 pm. Folks will enjoy a bustling marketplace where local artisans, craftsmen, and entrepreneurs can showcase their unique products and services. Many of these individuals have been flying under the radar, and this is a way to elevate, promote, and empower these businesses. Some of the highlights include a lively beer garden, captivating live music performance by Deas Guyz, and a wide variety of delectable food trucks. To learn more about Roots & Rivers Festival visit: rootsandriversfestival.org. To learn more about BlacQuity visit: blacquitysc.org.
Photo Credit: CanvasRebel Magazine