Why are more and more aerospace and defense companies landing in Beaufort County?
With a close proximity to major aerospace facilities, a built-in workforce of 2,100+ trained marines exiting the military annually, and an unparalleled quality of life, Beaufort County is the ideal location for aerospace and defense companies to thrive.
Marine Corps Air Station Beaufort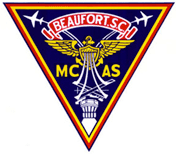 6,900 acres
4,700 personnel
12,202′ long runway
Home to five Marine Corps F/A- 18 squadrons and one F-35B Fleet Replacement Squadron, as well as Lockheed Martin's F-35 fighter jet training and servicing facility. The F-35B squadron is also the only location in the world where pilots train to fly the F-35B.
Three versions of the F/A-18 Hornet are found at MCAS Beaufort, the F/A-18A and C Hornet and the F/A-18D Hornet.
More Aerospace & Defense Companies in Beaufort County
L3 Kigre is a premier supplier of solid-state laser components. The company also manufactures specialty laser and filter glass materials optimized for use in microchip, microplate, fiber, waveguide and disk laser/amplifier applications.
MegaWatt Lasers manufactures lasers for both medical and industrial applications.
Vetronix Research Corporation develops and manufactures rugged electronic systems and components. The Company's line of business includes millitary vetronics, weapon system integration, power sequencing, data and signal processing, digitized audio, embedded diagnostic, and thermal management.
Gulfstream Aerospace designs, develops and manufactures business jet aircrafts in Savannah, Georgia, in our neighboring county. Also, Boeing assembles 787 Dreamliners in Charleston, South Carolina, less than two hours from Beaufort County.