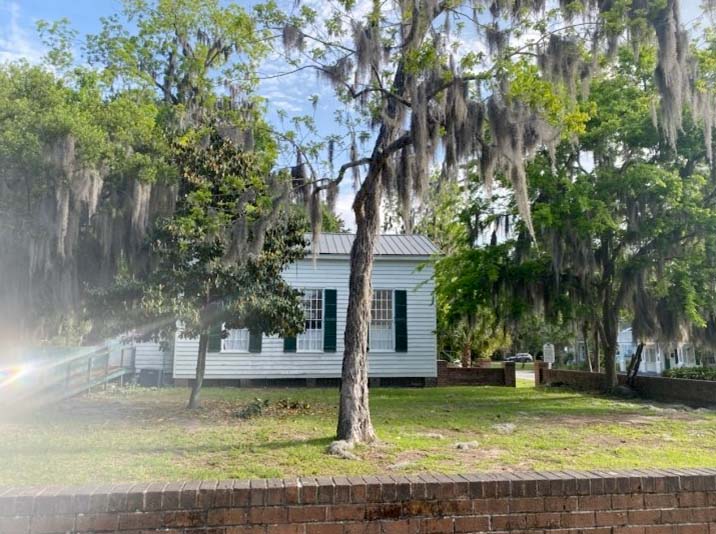 Spanish moss drapes itself over an unassuming white building with green shutters on Newcastle Street in Beaufort, South Carolina. The quaint building is known as the Grand Army of Republic Hall — a building rich with African American history and the fight against inequality.
The Grand Army of Republic Hall was built in 1896 by the David Hunter Post of the Grand Army of the Republic (G.A.R.). The G.A.R., founded in 1866, was a fraternal society for veterans of the Union army and navy. The David Hunter Post was founded in 1888 by African American veterans, many of them former slaves on Sea Island plantations who had been soldiers in the United States African American Troops in the Civil War. This post was named for General David Hunter, who had organized the nucleus of the last SC Black Volunteers in 1862. Robert Smalls, an African American Civil War hero, State Legislator, militia general and U.S. Congressman, also manned this post as an officer.
In May of 2018, the Beaufort County Economic Development Corporation staff, John O'Toole and Charlie Stone, sat in this historic building with a challenge:
What to do for rural St. Helena and other underserved areas of Beaufort County, a County often described as islands of opulence surrounded by seas of poverty?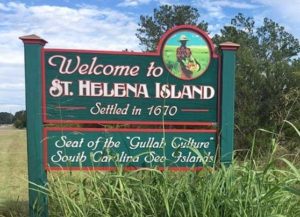 South Carolina heat and humidity beat down as John O'Toole prepared for his presentation. Gathered in the building to hear yet another discussion on economic development efforts was County Councilman York Glover and constituents. York and his constituents represent the St. Helena area of Beaufort County, a rural area riddled with economic hardship for those who don't live behind the gates of prestigious private communities.
The meeting left more questions than answers for Beaufort County's Economic Development team. One individual raised the point that she had just served in the Peace Corp and saw "better infrastructure in third world countries" than in her native St. Helena.
Fast forward seven months.
In December of 2018, the Beaufort County Economic Development Corporation received a call from a married couple with an interesting proposition. The couple, Andy and Cindy Rolfe, owned a second home in a prestigious gated community in Bluffton, SC. With roots in Beaufort County, SC and also in New Mexico, Andy and Cindy stated that they wanted to move forward with a project to "help those who need it most." Considering the underserved African American community in Beaufort County, SC and the Native American population in New Mexico, Andy and Cindy sought input from the BCEDC on potential projects.
The Beaufort County Economic Development team understood their social enterprise mission and introduced the Rolfes to Beaufort County councilors who represent districts that have not prospered along with the rest of the county. York Glover of St. Helena made a compelling case for his community having both need and potential given the rich agricultural heritage and land assets of the low income community.
About ten years ago, 17 Gullah farm families on the Sea Islands established a cooperative on St. Helena to sell fresh greens to school districts. But contracting with facilities to wash, cut and chop the produce proved too costly and unpredictable to sustain that business. The Coop needed to own a production facility where they could prepare produce to distribute directly to retailers and institutional customers. Beyond the need for a processing facility, the farmers on South Carolina's Sea Islands need more markets where they can sell their produce at a reasonable margin. Because the current distribution is limited and margins are low, the Gullah Coop farmers only plant on a fraction of their land today, and the next generation sees little future in farming.
Andy and Cindy Rolfe have partnered with the Gullah Coop to help them build an economic future for their family farms in a few ways:
1. First, they provided advisory support to help finalize the Coop's funding process.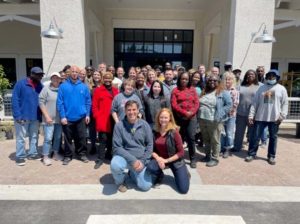 2. Second, they opened a local food market and café to sell Gullah Coop product in the higher income market of Bluffton. Lowcountry Fresh Market & Café aims to provide a more consistent source of demand and better margins than the institutional or wholesale distribution opportunities they had previously. This new demand should require planting on all their tillable acreage, allowing the farmers to better leverage their key asset. The improved financial results should in turn attract the next generation back to family farms and increase the prosperity, stability, and economic future of the Gullah Sea Island farm community.
3. Third, Lowcountry Fresh has a salaried manager dedicated to working with the Gullah Coop and other local farmers to plan crops, help them to develop post-harvest quality processes and ensure that local produce is featured prominently in the ready-to-eat foods and meal kits that will be produced in the market kitchen.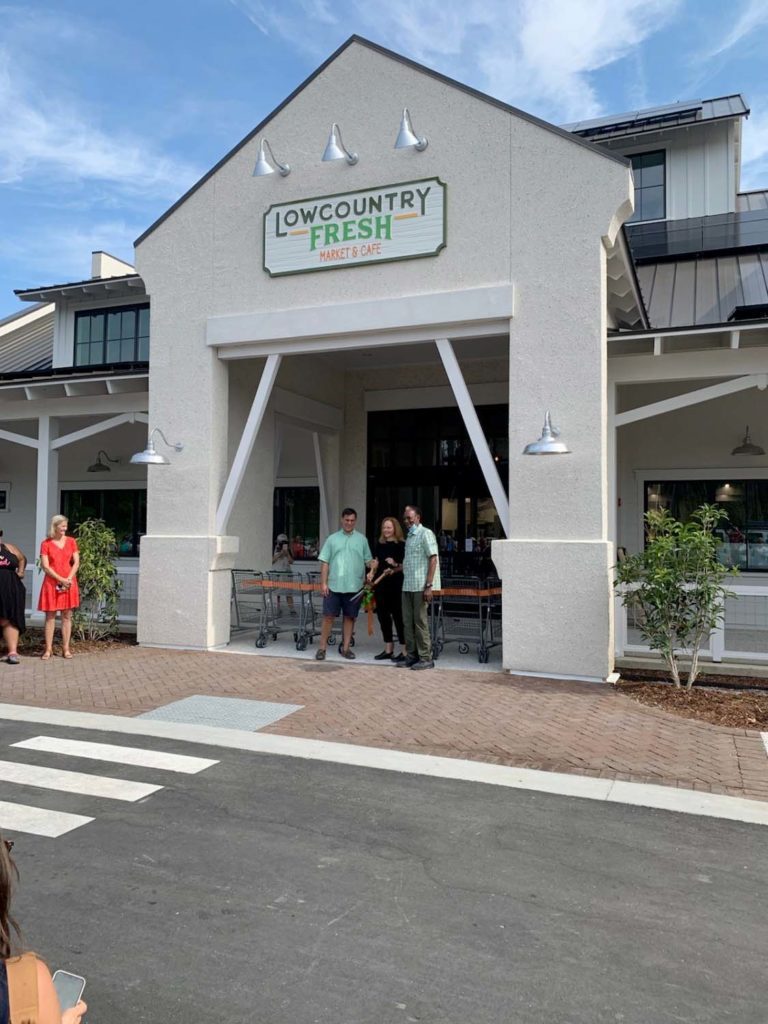 Fast forward a year and the Gullah Coop owns a building that will be renovated to transform a former health center donated by Beaufort County into a produce processing facility. Lowcountry Fresh has also constructed an 11,500 square foot Lowcountry-style building at the Washington Square development on Buckwalter Parkway in Bluffton, SC. The $5+ million building includes a commercial kitchen, solar panels and a 2,500 square foot classic Lowcountry porch to showcase seasonal items and provide screened outdoor dining.
The Lowcountry Fresh concept was shared with Hugh Weathers, South Carolina Commissioner of Agriculture in May 2019, and a year later Lowcountry Fresh was approved by SCDA as an emerging food hub in South Carolina. This will be the first SC Department of Agriculture Food Hub south of Charleston and allows farm product from all over the state to be distributed to retail customers and restaurants in Beaufort and the surrounding counties.
Andy and Cindy Rolfe have secured local suppliers of seafood, dairy and meats and plan to develop partnerships with area restaurants. Lowcountry Fresh sells local food such as groceries, prepared foods, take-out, and cook-at-home meal kits, as well as serves eat-in breakfast and lunch. There is also a demonstration kitchen where local foods are featured by local chefs at evening cooking classes.
The market opened on May 26th, 2021 and is open seven days a week, employing over 35 people in management, vendor development, procurement, receiving and shipping, food preparation, and customer service. Lowcountry Fresh is prioritizing diversity hiring. The Rolfes have connected with the Hilton Head and Bluffton Gullah communities and have been able to coordinate a team that is reflective of their mission. Lowcountry Fresh is offering competitive compensation, benefits, training, and career development.
Beaufort County Economic Development worked with economists at Clemson and USCB to model the economic impact of Lowcountry Fresh. The economic impact to South Carolina concentrated in Beaufort County and surrounding counties is estimated to be $27 million in the first five years.